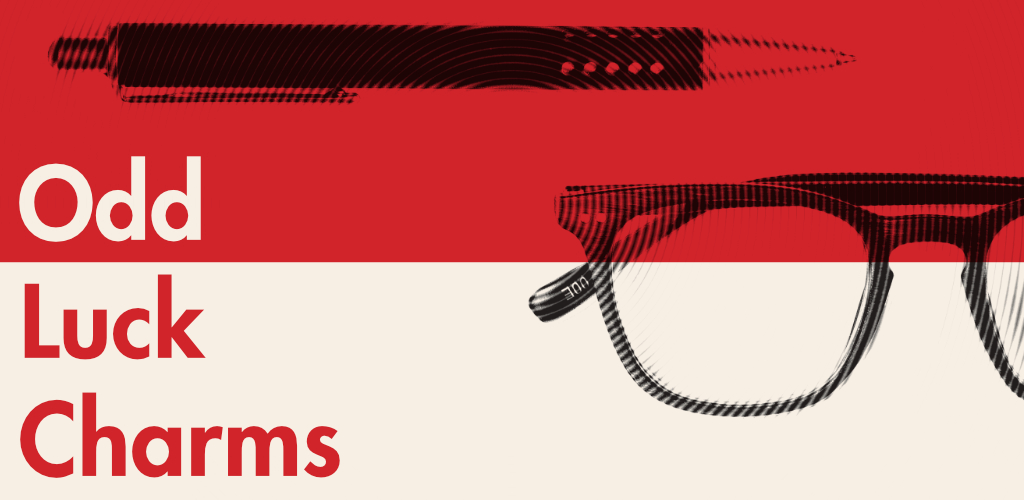 Odd Luck Charms
No one knows where they came from, or why they do what they do.
A lighter that explodes the nearest 4-door sedan.
A pair of maternity jeans that grant diplomatic immunity.
A briefcase that opens to reveal a fresh plate of pasta, every time.
Every one is different, just like the oddballs who collect them.
Just like you.
Odd Luck Charms is a playing-card-based RPG about ordinary people going to inadvisable lengths to get their hands on extraordinary things.
20-page booklet with the dimensions of a deck of poker cards
Draw a card to check for success, with degrees of yes, no, or things get weird
52 strange objects, 26 character traits, 13 friends or rivals, 13 twists, and additional tables to generate people and places
Print-and-play cards are also available free, including the 52 cards from the booklet, 18 sample traits, blank trait and object cards, and short rule summaries. (A print-on-demand card deck is also in development. Definitely don't be shy about grabbing a community copy now if you think you'll want to pay for a physical copy later.)
Inspirations include The Lost Room (SyFy), Warehouse 13 (SyFy), Control (Remedy Games), North by Northwest (Hitchcock), with rules built on Royal Blood (Grant Howitt)
Purchase
In order to download this game you must purchase it at or above the minimum price of $4 USD. You will get access to the following files:
Odd Luck Charms.pdf
976 kB
Odd Luck Charms plain text.txt
16 kB
Free Download
Support this game at or above a special price point to receive something exclusive.
Community Copies
If you aren't sure you can afford it, please feel welcome to download the PDFs free.
If you want to set up community copies like these for your own game on Itch.io...
Go to DASHBOARD
Click EDIT on a project
Click MORE, then REWARDS
Set cost $0; other details up to you
Comments
Log in with itch.io to leave a comment.
A really good and rules light take on Warehouse 13 and The Lost Room TV Series. If you want to play in a strange world and solve problems using strange items - this is your game!
Also, the included tables make it super easy to pick up and play!
Thanks Jason!
Thank you! I playtested this waaaay back at Metatopia 2017, but stuck it on the back burner when the feedback got me thinking about bigger questions than I was prepared to tackle at the time. (Especially: Is this well served by a deck of playing cards, or should it be designed as a deck-based game of its own?) Now that I'm posting in-development things on Itch, though, it seemed like a good time to dust it off and get back to working on it out in the open!